Regular price
Sale price
$12.00
Unit price
per
Sale
Sold out
Say goodbye to dryness and hello to supple, smooth, and silky skin that radiates with a healthy glow! 
Whether you're dealing with dryness, eczema, or other skin conditions, our Buttercream is infused with soothing ingredients that work to calm inflammation and restore balance to your skin. So bid farewell to itching and say hello to relief. Experience the difference of skincare that doesn't quit on you, and indulge in the lasting hydration your skin deserves with LBXS SKIN.
Here's why our buttercream is a game-changer for your skincare routine:
Healing Properties: Sea moss, oats, and ceramides are known for their healing properties and their ability to soothe and nourish the skin. 
Hydration and Moisture:  The combination of sea moss, oats, and ceramides works synergistically to replenish and retain moisture, leaving your skin hydrated, supple, and smooth. 
Relief from Skin Conditions:  The soothing and nourishing ingredients help calm inflammation, reduce itchiness, and provide relief to irritated skin. Regular use can promote overall skin health and comfort.
Non-Greasy Formula: Lightweight and fast-absorbing, leaving no greasy residue behind.
LBXS SKIN  provides you with quality skincare that delivers visible results and enhances your overall skincare routine.
HOW TO USE:
For best results, apply to clean, damp skin. Apply twice daily for extremely dry skin/itchy skin. For added moisture, combine with our Repair & Glow Face & Body oil. Discontinue use if irritation occurs. External use only.
BENEFITS
Sea Moss: Contains 92 of the 102 minerals the body needs daily. Known for its antimicrobial and anti-inflammatory properties, it can help soothe eczema, dermatitis, burns and psoriasis and works to keep skin healthy.
It also has the ability to combat acne, aging skin and promote the production of collagen naturally.
Ceramides: Keeps skin barrier intact and healthy. Helps create a barrier to . lock moisture into your skin, which helps prevent dryness and irritation. It may also help protect your epidermis from environmental damage and has anti-aging effects
Neem Oil:  treat dry skin and wrinkles, stimulate collagen production, reduce scars, heal wounds, treat acne, minimize warts and moles.
Apple Seed Oil: Promotes elasticity and softens skin. Helps in collagen production and activation, giving skin a  youthful and firm appearance. It reduces the appearance of fine lines and wrinkles. Has also been known to help prevent skin cancer.
Haitian Black Castor Oil: a natural humectant. The ricinoleic acid helps to fight acne, reduce joint pain, and promote healthy skin.
Hemp Oil: moisturizes and soothes inflammation. Treats atopic dermatitis. Has anti-aging properties.
Oats: Works as an emollient by adding moisture to the skin. It keeps the skin soft and prevents it from feeling itchy. It can also give relief to irritated skin as it has anti-inflammatory properties that prevent redness and inflammation.
Full Ingredients:
Aloe vera juice, distilled water, vegetable emulsifying wax, sea moss, shea butter, mango butter, cupuacu butter, vegetable glycerin, ceramide complex, oats, vitamin E, hemp seed oil, haitian black castor oil, apple seed oil, jojoba oil, special oil blend, argan oil, plant & coconut based preservative, fragrance. (Naked is fragrance free)
Share
View full details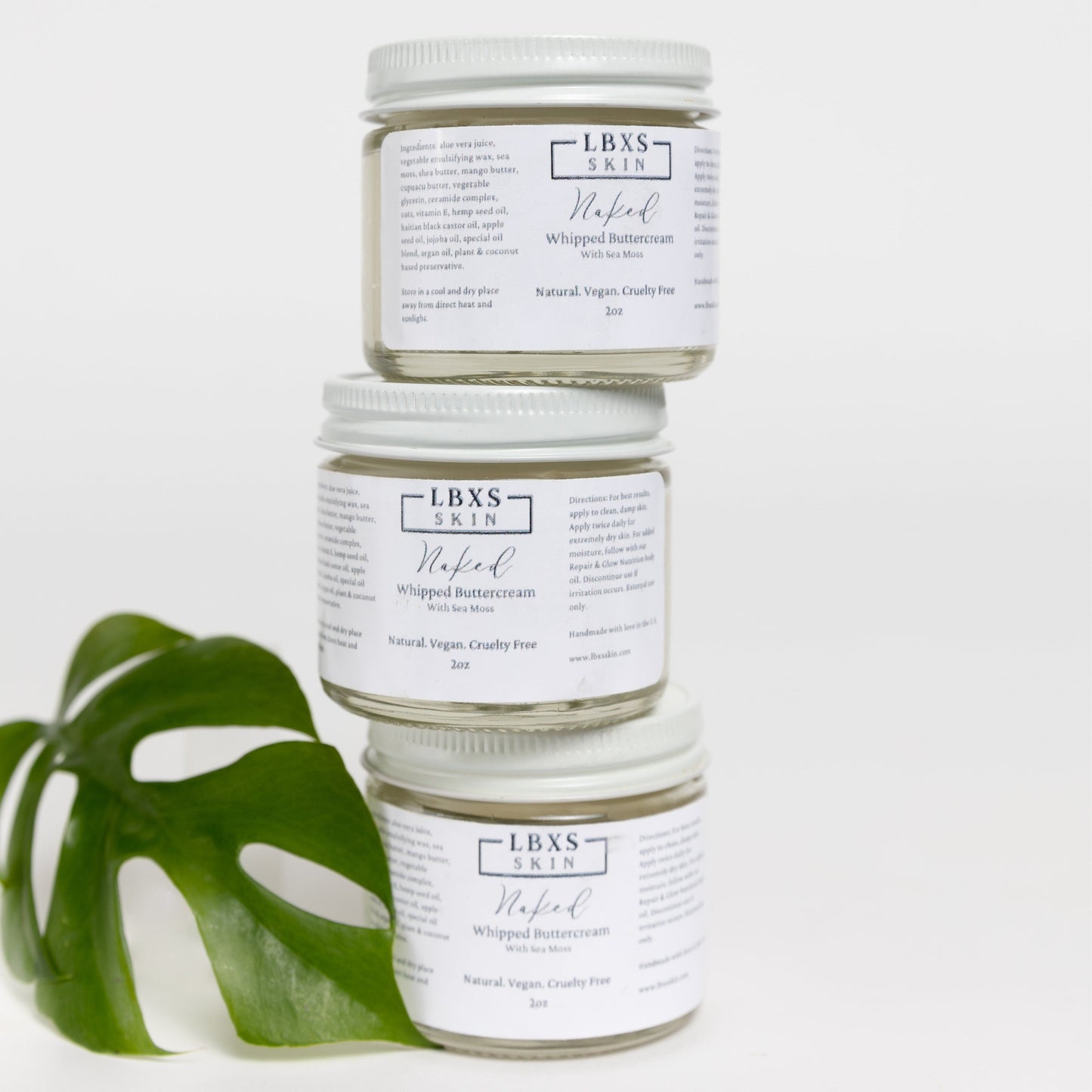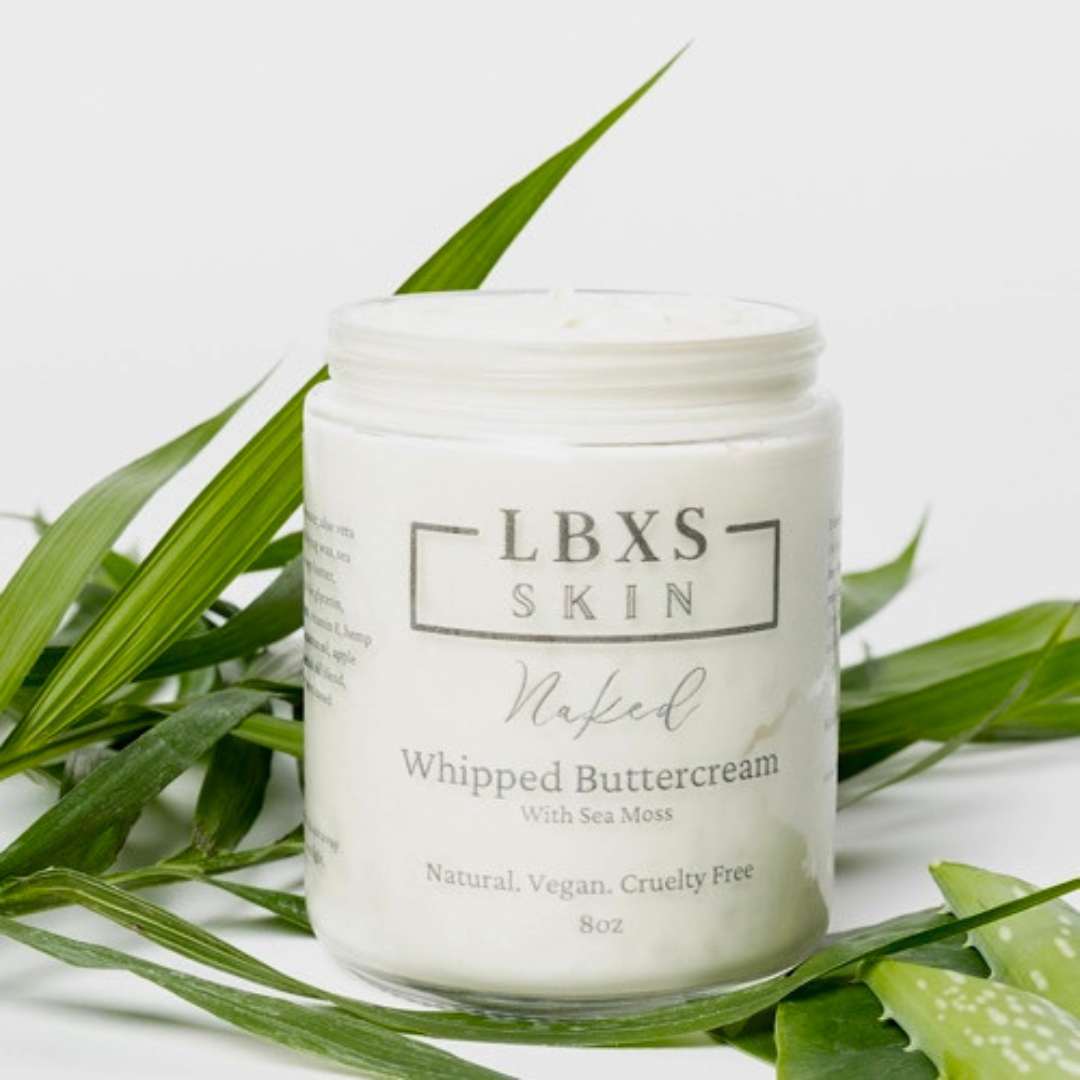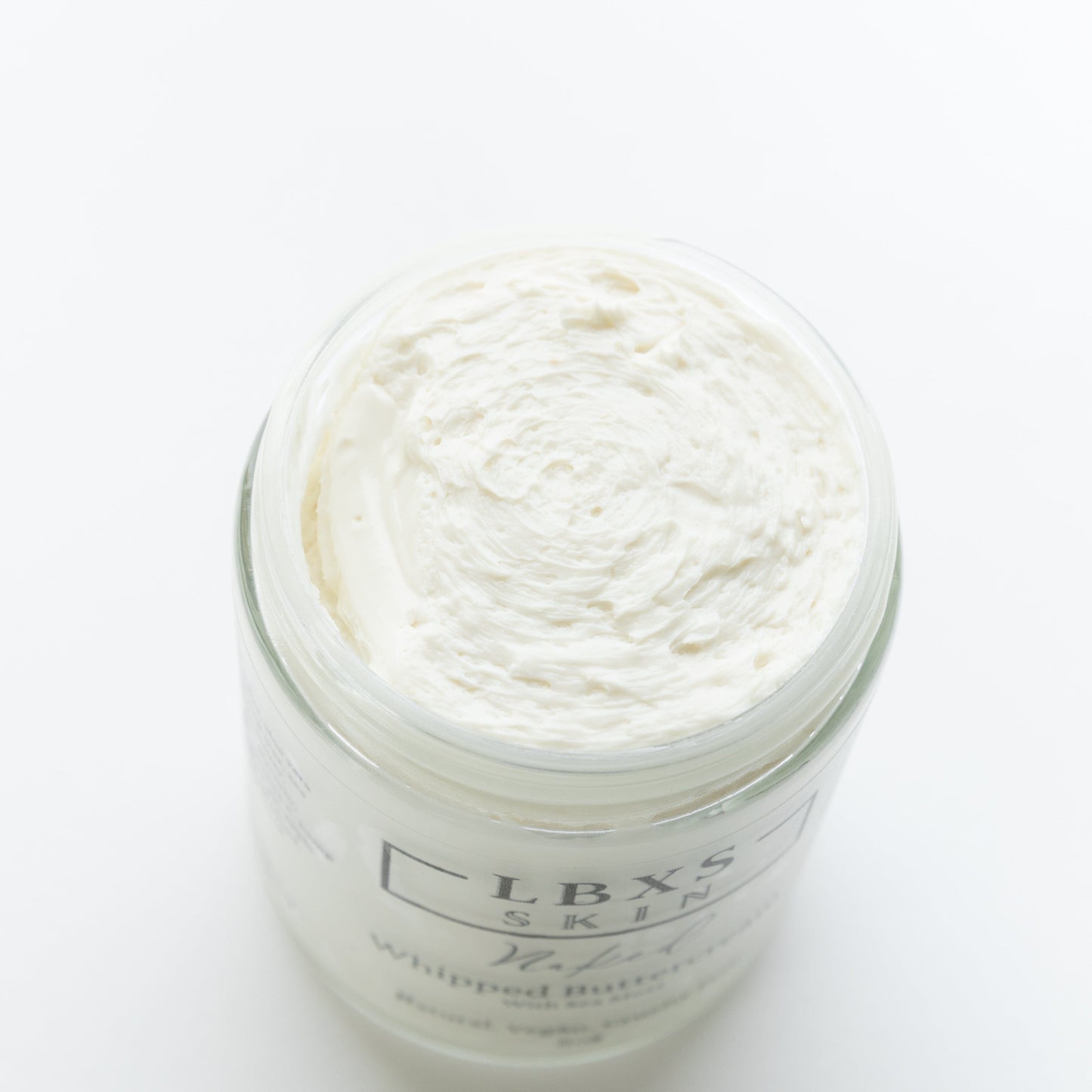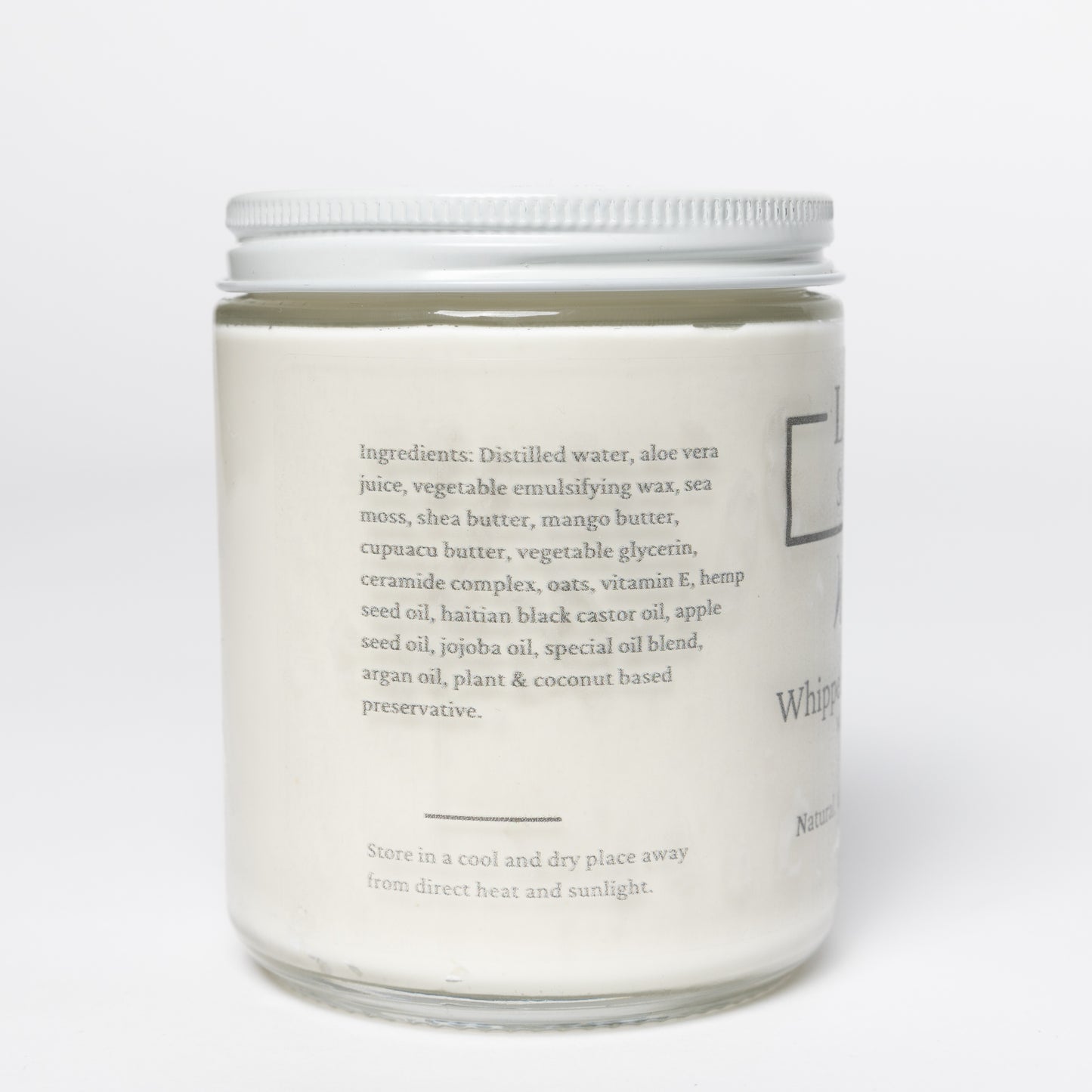 I'm done with other lotion!
These buttercreams are the best! I have several favorite scents now - Brown Sugar Baby and Cherry Noire are top 2. Then Cobana and Glo are pretty special too! Some at work, some in my purse, some in the car, some at boyfriend's house, and some in my travel bag! All day moisture! Buy it now!
Butter cream NAKED
I used this stuff for my daughter because the medicine her doctor prescribed wasn't working and she has been scratching less.! Her knees are clearing up fast. We love this cream!
Buttercream
I bought the buttercream for my mother and myself and I have to say that it is AMAZING!
I have never used a product that has helped my skin as much as this product.
Thank you Malika for making such a great product. I will definitely be buying more
Best skin buttercream
My son had eczema. I had because his skin is clear and had been for about a month or so now. I was referred by someone and got in touch with lbxs. I explain what was happening because whatever the MD was giving worked but for a short time. I got the naked buttercream and it was a game changer for us. My son's skin got cleared with 2 days of using it and has been that way since. He only gets heat bumps when he gets hot. His skin is smooth like it should be. Mind you his is only 16 months, he was itching like crazy.
LBXS SKIN BUTTERCREAMS
I recently bought LBXS SKIN BUTTERCREAMS and was very pleased with the results. The cream has a soft and smooth texture that is gentle on my skin. It also provided the necessary hydration and left my skin feeling refreshed. Natural scents were a nice touch because they were subtle and not overpowering. The product's price point is also quite reasonable, especially considering the product's quality. Overall, I'd recommend LBXS SKIN to anyone looking for a natural moisturizer.